Hear from leading artists
Uday Bhawalkar, Vocal
Uday Bhawalkar is a standard bearer for Dhrupad, and a strong force in its growing recognition and popularity. Uday believes that when immersed in the note and raga, the self disappears and music takes on its own existence; the principle of 'darshan'. These values are helping him on the path of devotion to Dhrupad. Dhrupad is one of the oldest forms of North Indian classical music and Uday maintains its majesty and subtle nuances. Dhrupad is a living and evolving classical music tradition. Uday has developed a unique style deeply embedded in raga ras and bhaav.
Uday believes in gaining the state of "sahaj", being equally at ease in concerts large or small. While teaching, Uday creates a nurturing environment and continues to bring new life to the ancient tradition of Dhrupad. For Uday, every musical act is a blessing and a stage in his life's journey.
Hear Pandit Uday Bhawalkar:
---
Wasifuddin Dagar, Vocal
Wasifuddin Dagar is son and nephew of the Dagar brothers, Ustad N. Zahirudin and Ustad N. Fayazuddin Dagar, and is a sought after dhrupad singer. He is President of the Dhrupad Society, which is exclusively dedicated to the promotion and presentation of Dhrupad gayaki in all its varied and rich facets. Being born in the Dagar family, the preservers of dhrupad for 19 generations, and the creators of Dagarbani dhrupad, Wasifuddin Dagar considers it his duty and responsibility to carry forward the Dhrupad tradition. Hear from Ustad Wasifuddin Dagar:
My interest in dhrupad… or rather I took my first breath in dhrupad atmosphere through my family. The family which has not just inspired its family but that has inspired countless music lovers into the genre. I was born in such a family in which it is very difficult to distinguish who is better and who is best. Because all eight members in the previous generation in the Dagar family were and are my inspiration, my pathfinders, my path-givers…  to say dhrupad is my life, I think it is too small to say!
Dhrupad is the Source, dhrupad is an energy, dhrupad is a bliss which enlightens not just the body, not just the soul but the being, where  being is existence and existence is not limited to just one era. Dhrupad is contemporary, it is relevant in all periods of time. I salute my ancestors… rather my salute is to ancestors of ancestors who have given us the unfinished line to be continued, to be part of this huge grid which is energizing not just the Green Planet, not just the Green but also the Blue Planet, the watery planet which has its say in utterance into the universe. This is what dhrupad is to me. For me, through me, with me. Billions of bows to our ancestors and forefathers who have given us the feel of touch, the essence of aesthetics of this gayaki.
Listen to Ustad Wasifuddin Dagar:
---
Gundecha Brothers, Vocal and Pakhawaj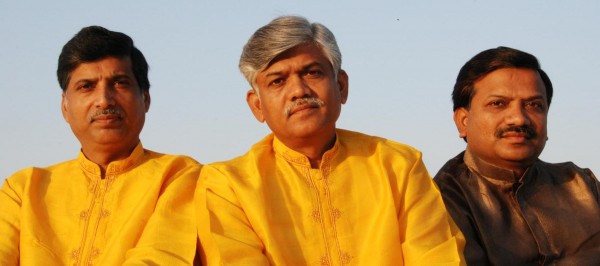 Gundecha Brothers, Umakant, Ramakant and Akhilesh Gundecha are artistes, teachers and philosophers who are making Dhrupad popular all over the world. They run Dhrupad Sansthan in Bhopal, an institution which welcomes all who want to learn. Here, they express their relationship to Dhrupad through "Sur" and "Rag".
Sur
When Sur comes into existence,
it unfolds
a uniquely constructed form
in the design of nature,
with its own space in
the grand harmony.
It creates a flame
of an ever-increasing brightness
and a definite structure
of consonance.
In our effort to understand Sur,
we rush
to assign meaning to it.
We translate,
interpret,
convert
this contentment
that we receive from the Sur
into a meaning relevant in our world.
(The world of words, for instance, Ras, Bhav.)
We draw a curtain across this fierce light
only to dilute its essence
so it becomes easier for us to see.
Without realizing that it
cannot be named,
we give it the attributes joy, sadness, yearning…
But,
to have the courage
to stand before the Sur
and witness its creation and fire thereafter,
to accept
its intensely beautiful bareness
to allow

the experience to be its own self
without our participation or interference,
this is task.
We know
its power and truth are what
we are unable to stand and watch.
Its radiance is clearly too radiant.
And, in the general playfulness of nature,
every pure note
that comes into being
also creates a field of Maya around it.
Like the disc of the sun
throws beams of light 360 degrees outward
so that the eye is unable to comprehend
through its fog of light,
the actual figure of the sun itself.
And yet,
to stand by Sur,
this is real Sadhana.
To stand still,
and wait in this brightness,
though it may be too sharp to bear.
To watch slowly,
the intensity of the Sur give way
for our mind
to comprehend its form
across the glare of Maya.
To offer this strength,
and to be allowed
into its fold…
This is
to be in
the presence of the Almighty.
***
Listen to Padmashri Pandit Gundecha Brothers:

Raga Adana, "Shiva Shiva", Sooltaal

Raga Asawari, Alap
Audio clip: Adobe Flash Player (version 9 or above) is required to play this audio clip. Download the latest version here. You also need to have JavaScript enabled in your browser.
Raga Charukeshi, "Jhini Jhini", Sool Fakhta
Audio clip: Adobe Flash Player (version 9 or above) is required to play this audio clip. Download the latest version here. You also need to have JavaScript enabled in your browser.
---
Nancy Lesh Kulkarni, Cello
Dhrupad came to me by chance, or perhaps you could say fate. I first came to India in 1982, on a holiday from my job as a cellist in the Maggio Musical Orchestra of Florence, Italy. At that time, I came to Varanasi and gave a recital of Bach music for the faculty of the Banaras Hindu University.
The dean of music, Dr Premlata Sharma, heard my recital, and told me that my instrument is perfectly suited to play dhrupad music. I had no idea what "dhrupad" meant. Dr. Sharma directed me to study dhrupad cello with Dr Ritwik Sanyal, Professor of Dhrupad at BHU. As soon as I heard Dr. Sanyal's beautiful Bhairaw alap, I was hooked. I felt that this was the most beautiful music I had ever heard. I canceled my job in the Florence Orchestra and stayed in India 7 years to learn dhrupad, first with Sanyalji in Varanasi, and then with Ustad Zia Mohiuddin Dagar in Mumbai.
After the untimely demise of my guru, Ustad Zia Mohiuddin Dagar in 1990, I began to study with his brother, Ustad Zia Fariduddin Dagar. I have been happily studying with Ustad ZF Dagar for the last 21 years.
I still love the classical greats of Western music, especially the music of Bach. But when I came to India and heard dhrupad, I realized that physically I cannot do both. For me there was no choice. My heart was telling me to pursue dhrupad. I have never regretted that path. The more dhrupad I learn, the more I realize how little I understand, and I feel inspired to make this my life's journey. The study and performance of dhrupad gives me complete satisfaction in this life. I do not need to go beyond dhrupad, because dhrupad is fathomless. One life is not enough to master this profound music.
Hear Ms. Kulkarni:
Alap in Ahir Bhairav, Part 1
Alap in Ahir Bhairav, Part 2
Sultal in Puriya Dhanashree
---
Ram Kumar Mallick, Vocal
The Dhrupad tradition of Darbhanga and the Mallick family are almost synonymous. Born in 1957, Ram Kumar Mallick belongs to the illustrious musical family of Darbhanga Gharana and represents the 12th generation of this musical lineage. His training in Dhrupad Dhamar started at an early age under the guidance of his father late Pandit Vidur Mallick. He also had the opportunity to learn from his grandfather the late Pandit Sukhdev Mallick.
The performance of the Darbhanga Gharana of dhrupad singers can be distinguished mainly by the way compositions are sung after the alap. The distinctive feature of the gharana is powerful and expressive vocal delivery, combined with a lively style of performance. In addition, Ram Kumar Mallick's recital is marked for the unique, rich repertory of compositions, the use of Khandarwani & Gaurharwani besides a variety of layakaries & tihayees.
Hear Pandit Ram Kumar Mallick:
Raga Darbari Kanada
Raga Shahana Kanada
---
Prem Kumar Mallick, Vocal
Prem Kumar Mallick belongs to the 12th generation of the Darbhanga Dhrupad musical lineage and is the son of legendry Dhrupad vocalist Pt. Bidur Mallick . He is regarded as the most distinguished Dhrupad vocalist of Gauharbani & Khandarbani style. Gifted with rich, soulful & powerful voice, he has performed at many important prestigious festivals in India and abroad. He has the highest rating of 'Top Grade Artist' of All India Radio & performs regularly on television.
Apart from being a Professor of Music at University of Allahabad, he devotes his time teaching Dhrupad at his son's Dhrupad academy, 'Pandit Bidur Mallick Dhrupad Academy' in Allahabad, which works  for the preservation, development and popularization of Dhrupad.
Prem Kumar Mallick feels that 'music is worship' , that music expresses feelings that words cannot, and that it is a divine gift of god to mankind.
Here are additional thoughts on Dhrupad from Prem Kumar Mallick:
"Dhrupad is the origin of Indian Classical music, the most ancient classical genre existing in its purest form today. I feel Dhrupad is the only art form which induces a complete feeling of devotion, divine energy, heroic power, as well as tremendous joy into the listeners mind and the soul.
It's my good fortune that I was born in the ancient music family of Darbhanga that has produced several Dhrupad masters. I was inspired into Dhrupad from a very young age due to the
constant flow of Dhrupad singing and Pakhawaj from early morning till the late evening by my grandfather Pandit Sukhdev Mallick and my father Pandit Vidur Mallick, who were teaching and practicing Dhrupad for long hours. I felt great attachment towards Dhrupad due to its purest form of rendering the Alap and the presentation of composition (Bandis) in a very devotional manner. Whenever I sing I convey my humble pranams to my ancestors and like to keep my music very close to theirs, because Dhrupad is majestic and has a unique essence of aesthetics.
I feel Dhrupad music has a bright future and it will exist in our Indian music forever, it is the blessings of our ancestors that Dhrupad has survived till now and will be on its peak again in
coming future due to the increasing number of support from music institutions, government bodies, and the leading Dhrupad vocalist giving their contribution to uplift this ancient art form.
For me, Dhrupad is worship and I am happy to be a part of it, it gives me great energy and peace. "
Hear Pandit Prem Kumar Mallick:
---
Ravi Shankar Upadhyay, Pakhawaj
Ravi Shankar Upadhyay is a renowned and reputed pakhawaj artist. He comes from a family whose history with the pakhawaj goes back 400 years. He belongs to the Pakhawaj Parampara of  Pandit Vasudev Upadhyay of Gaya, Bihar. Pandit Ravi Shankar-ji received very intense and fine training under his own father, pakhawaj maestro late Pandit Ramji Upadhyay. He proudly represents the 13th generation of artists nurturing this traditional art.
The art of playing pakhawaj has been a tradition in Ravi Shankar Upadhyay's family from ancient times. His ancestors were given this title of 'Upadhyay'(given to the best of gurus) in the royal courts. Family history states that 400 years ago his ancestors who were musical maestros of the time used to live in Rajasthan. Later, they were specially asked by the Rajah of Bihta state (Bihar) to move to their province and they were given a special place in the royal court. In successive generations, this tradition blossomed and famous meastro's were given to this musical world by his family.
Hear Ravi Shankar Upadhyay's thoughts on the Pakhawaj:
The pakhawaj is gifted by the gods and its place is unique. It is  called "Sajan Pati Mridang" which means the boss of all the musical instruments. The pakhawaj  is said to be made by Lord Shiva and this instrument is played by the Lord Ganesha , who is the son of Lord Shiva. The pakhawaj is also the oldest and most kingly percussion instrument. The older name of the pakhawaj was "Mridang". In the the time of Amir Khoosro the pakhawaj was divided in to 2 parts, and made into the tabla. So,  the Pakhawaj is the father of the tabla. The pakhawaj can be played solo, or as an accompaniment to dhrupad vocal ,veena, surbahar, sarod & Kathak.
The sound of the pakhawaj is majestic and attractive.  It is said to present where the atmosphere is pure. That's why pakhawaj is also
called a "Mangal vadya". I devote my life to this musical instrument, the pakhawaj.
Watch and listen to Pandit Ravi Shankar Upadhyay:
Accompanied by harmonium
Accompanied by sarangi
A second video, accompanied by harmonium