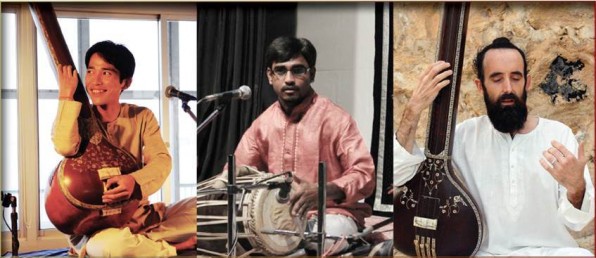 Please join us for a promotional Dhrupad vocal U.S. tour by Shri Branan Dubh of Australia (Right in photo above), Shri Inoue Sou of Japan (Left), accompanied by  Shri Dnyaneshwar Deshmukh of India (Center) on the Pakhawaj.  All artists have been trained by Padmashri Gundecha Brothers at Gurukul, Dhrupad Sansthan, Bhopal.
Join the Facebook event now!!! 
Tour Schedule
The tour will occur during the month of November 2013. The schedule is below. Please check back as details and additional locations will be posted:
November 8 – Washington DC/Maryland/Virginia
Time: 8:00 pm
Venue: 9004 Congressional Ct., Potomac, MD 20854
Entrance: Suggested donation $20
Contact: Satish Bhatia – 301-523-7255
November 9 – State College, PA
Time: 6:30pm
Venue: Residence of Latha Bhushan & Bhushan Jayarao
693, Tanager Drive, State College, PA 16803
Entrance: $10, at the door
Contact: Latha Bhushan – 814-571-6698 or 814-867-1073 or e-mail
November 10 – Boston, MA
Contact: Pradeep Shukla – 978-505-5002
November 12 – Wayne, NJ – First of two concerts
Time: 12:30 pm
Venue: Shea Center for Performing Arts
William Patterson University, 300 Pompton Road, Wayne, New Jersey 07470
Entrance: Please see – http://www.wpunj.edu/coac/departments/music/concerts/midday.dot
Contact: 973-720-2000 or Payton MacDonald – e-mail
November 13 – Wayne, NJ – Second of two concerts
Time: 7:30 pm
Venue: Vivekananda Vidyapith Cultural Hall
20 Hinchman Avenue, Wayne, NJ
Entrance: $15 (adults), $5 (Vidyapith students)
Contact: Bhupendra Gadhavi (973)-305-1024;Medha Deshpande (201)-447-6936; Kusuma Rao (732)-219-0294; Amita Patel (908)-757-4496;Vidyapith Office: (973)-628-1877
Vivekananda Vidyapith
November 19 – Nevada City, CA
Time: 7:00 pm
Venue: GunaNatha, 310½ Broad St., Nevada City, CA 95959
Entrance: Sliding scale – $15-$25
Contact: Eric Rosenbush – 530-263-7903
November 22 – Los Angeles, CA
Time: 8:00pm
Venue: Meher Baba Center of Southern California
1214 S. Van Ness Avenue, Los Angeles, CA 90019
Phone: 213-731-3737
Entrance: Tickets at the door from 7:30 PM
Members $15, General $20, Students/Children $5, Sustaining Members Free
Contact: 626-449-6987; www.musiccircle.org; musiccircle@aol.com
November 23 – Berkeley, CA
Time: 7:00 pm
Venue: Subterranean Arthouse
2179 Bancroft Way, Berkeley, CA 94704
Entrance and Contact: Please see – Sangati Center
November 24 – Seattle, WA
Time: 6:30pm
Venue: Independent Order of Odd Fellows Hall, (also known as Ballard-Alki Lodge #170), 1706 NW Market Street, Seattle WA 98107
Entrance: Get your online now for a discount- http://branan-sou-dnyaneshwar-seattle.eventbrite.com
Concert:
Advanced purchase online – $22
At the door – $25 starting at 5:45pm, day of concert.
Children – $5, online and at the door
Pizza:
After concert pizza with the artists at 8:45pm – $7
Children -$3
Advanced purchase required for pizza
All tickets purchase link – http://branan-sou-dnyaneshwar-seattle.eventbrite.com
Contact: Vibhavaree Gargeya – 206-491-4578
November 25,26 – Seattle, WA
Pakhawaj and taal workshop with Dnyaneshwar Deshmukh – all experience levels welcome! Bring your instrument, or bring your voice.
Dinner will be available. Potluck contributions are welcome.
Time: 7:00pm-8:30pm
Venue: Vibhavaree's residence
5413 3RD AVE NW
Seattle, WA 98107
Phone: 206-491-4578
Entrance: Donation to the artists will be gratefully accepted.
Contact: Vibhavaree Gargeya 206-491-4578
Artist Bios
Shri Branan Dubh
Australian born, of Celtic ancestry, Shri Branan Silvius Dubh has been intoxicated by a longtime love affair with Indian music and culture. A musician for 25 years, his artistic path has been inspired by sonic encounters with the sacred, and powered by a sense that music can change the world.
Branan has been a dedicated vocalist of Dhrupad for over 10 years, under the expert tutelage and guidance of his gurus, the Gundecha Brothers, both recipients of the coveted Padmashree award. Acclaimed as one of the finest Western exponents of this style, Branan is a recipient of an Ian Potter Cultural Trust award to further his studies in India with his gurus.
Branan's singing communicates the emotional depth of the raga tradition while opening the path between music and meditation. He performs in traditional and original contexts and teaches mainly from his home in Perth, Western Australia.
Shri Inoue Sou
Shri Inoue Sou began to study music when he was six years old. He trained in traditional Japanese shrine music (Kagura Ongaku) on flute and drums from Mr Makino Saburo. Sou has been performing since 1984, and has played in many shrine ceremonies in Japan. As a soloist, he has performed since 1989 in Japan and other countries around the world. In 2003, Sou began to study Hindustani classical music on bansuri (Indian bamboo flute) from Mr. Nakagawa Hiros (a disciple of Pandit Hariprasad Chaurasia) in Kobe, Japan. Sou's interest in a deeper understanding of the spirit and rigors of Indian classical music (especially Alap) made him travel to India in 2008 to study classical vocal music in the Dhrupad style from the Gundecha Brothers. He has begun now to perform Dhrupad and continues to study at the Dhrupad Sansthan in Bhopal, India.
Shri Dnyaneshwar Deshmukh
Shri Dnyaneshwar Deshmukh has been a student of pakhawaj for 12 years. His journey took a defining turn in 2009 when he was inducted into the Dhrupad style of pakhawaj playing by the great maestro Pandit Akhilesh Gundecha.
He is being trained in the Guru-shisya tradition at the Dhrupad Sansthan under the tutelage of both Pandit Akhilesh Gundecha and Padmashree Pandit Gundecha Brothers. Prior to this he also received valuable training from Shri Panduranga Appa Datar.
Pakhawaj has been a tradition in Dnyaneshwar Deshmukh's family, and his father, Shri Ranganath Deshmukh, is a well-known name in Maharashtra.
Shri Dnyaneshwar Deshmukh has performed all over India in various respected concerts and conferences as a solo artist as well as an accompanist.
Posted on August 18, 2013 - 1:13 am
By vibhavaree
Posted in